Jason F. : Civic Type-R EP3 – Slightly thicker, Perforated leather on sides, Smooth nappa top/bottom + Red centre stripe, Red stitching – EXCHANGE (14.03)
Suburb quality, really pleased, many thanks.
Kind regards,
Jason.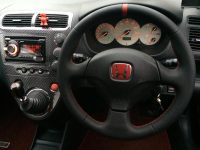 David E. : Freelander 2 GS – Perforated leather on sides, Smooth top/bottom, Black stitching – EXCHANGE (7.03)
Just to say a massive thank you, I came down to see you today, Freelander 2 , I am absolutely chuffed to bits, I work at a Land Rover Main Dealership and know quality when i see it and feel it, Your wheels are top QUALITY, I will recommend you to any one who needs help, VERY VERY impressed.
Thanks again, David.
Andy H. : Megane RS 275 Cup-S 2016 – Slightly thicker, Dark grey alcantara 9002 + Red centre stripe at 12 o'clock, Red stitching – EXCHANGE (2.03)
The new wheel is on and looks fantastic. Much better than the factory alcantara wheel, I didn't spec it as an option as I knew I'd get one from Royal. Better quality material and finish, they also make it slightly thicker, so nicer to hold, had the wheel of my 250 done by Royal as well, excellent quality. Thanks again for a great job.
Best regards,

Matt : Toyota, Hilux, 2007 – Full Black Smooth leather, Black stitching – Originally (22.02)
Just wanted to say thank you for an amazing job redoing my steering wheel, I couldn't be happier!!!
Kindest regards,
Matt S.
Petrea og Ole : Audi TT mk1 2004 – Full Modification (Thicker, thumbs, Flat Bottom) , Perforated leather on sides, Smooth top/bottom, Black stitching – EXCHANGE (18.02)
I have just received my new steering wheel, and I am very happy with the quality "super craftmanschip".
Thanks,
Ole
Diana S : BMW F32 430 Luxury 2015 ( with Paddles) – Padded ( Slightly thicker and softer ), Smooth nappa leather, Black stitching – Msport Style (27.12)
I just wanted to write and say how happy I am with the lovely new steering wheel you've made and fitted for me.
Brilliant service and I will definitely recommend you to anyone else who needs their steering wheel covered.
Kind regards,
Diana
Graham P : Golf mk7 GTD / GTI ( Manual) 2016– Black Alcantara, Light grey 412 stitching (22.12)
I was delighted with the service, fitted in 20 minutes, the Alcantara covered wheel is excellent, feel great, quality of workmanship is very high….well done !
David M : MX5 mk3 – Thicker (2mm). Thumb grips built up, Perforated leather on sides, Smooth top/bottom * Red centre stripe at 12 oąclock, Red stitching (15.12)
The new wheel is a delight to hold and the feel and texture is perfect and it looks great. The more I drive the car the more I love it and I have to be honest the wheel has made such a difference. Can't believe it. It's so tactile and it just looks like it was made with the car, Brilliant.
Hope to do business with you in the future and I will definately recommend you to my friends.
Once again Thank You,
David
Stephen : Toyota Land Cruiser 1999 – Dark grey Perforated leather on sides, Dark grey Smooth top/bottom, Dark grey stitching (8.12)
The wheel is now fitted, you could not have picked a closer colour, it looks fantastic, feels good to.
Best regards, and thanks again, form another satisfied customer.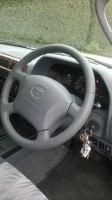 John Cooper : 6 Series E64 M6 2007 – Slightly thicker, Perforated leather on sides, Smooth top/bottom, M- stitching (5.12)
The wheel arrived safely last week, and I've put it on the car. Also to say thank you, I am really very happy with it. You've done a really great job, it looks like an original factory quality wheel from a really expensive car. Very classy, very high quality work, and exactly what I wanted. Great service & quality workmanship.
The steering wheel is great & I would recommend to anyone i speak to.
Many thanks!
John
Keith : E46 M-sport 2005 – Padded. Smooth Nappa leather, M-stitching – M3 Style (14.11)
Great service & quality workmanship.
The steering wheel is great & I would recommend to anyone i speak to.
Thanks very much,
Keith
Mathew E : Focus RS MK1 – Blue leather on sides, Black top-bottom + Blue stripe at 12 o'clock, Black stitching – Originally (8.11)
Fantastic service and communication. The quality of workmanship is perfect, very impressive. I'll certainly be using your service in the future, highly recommended!
Regards,
Matt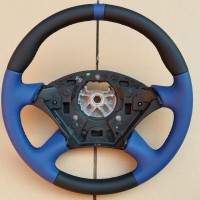 Garry Butcher " Mitsubishi L200 2007 – Thicker 2mm, Thumb gripe added, Perforated leather on sides, Smooth top bottom, Blue 1394 stitching – EXCHANGE (12.09)
The service was second to none, the new wheel arrived after 1week and what can i say the wheel is fantastic it is like driving a brand new truck,whatever your expectation's are then you can double them you will not be disappointed.
Many thanks again
Kim Hollamby: Cayman 2006 (round airbag, black) – Black Alcantara 9040, Red stitching – EXCHANGE (14.06)
This is the second time I have used Jack for my Porsche
Steering Wheels and suffice to say the polite, professional service
and quality of workmanship has been excellent and I wouldn't hesitate to recommend this company. Many thanks again.
Kim Hollamby
Mike W. T4 2002 ( Non Airbag) – Thicker (2mm) Thumb grips added, Perforated leather on sides, Smooth top/bottom, Red stitching ( 21.03. 2016)
I would just like to say I am very pleased with the quality of the finish of the steering wheel.
The wheel was completed in about a week, which was quicker than originally quoted, so that was a nice bonus.
The added thumb rests look very 'factory finish' on the wheel and the matching centre cover really does finish off the total look.
The red stitching is very uniform and neat, and even passengers who normally have no interest in cars, have commented on the red stitching of the wheel.
It adds a custom look, without looking aftermarket. I am very pleased to have gone down the route of having my steering wheel retrimmed, rather than going for an aftermarket steering wheel and boss. It is excellent value for money for the quality of the finished product.
Regards, Mike
David: E46 M3 Manual – Padded, Smooth leather on sides, Black alcantara top/bottom + 3 M colour centre stripes at 12 o'clock, M-stitching – (Fitted 4.11.2015)
Thanks for doing such a wonderful job of my new steering wheel. The workmanship is superb and it's one of the best mods I have done to the car to date.
Kind regards
David A
SStephen : Cayman / 987 (triangular airbag, black) – thicker, thumb grips added, perforated leather on sides ( extended), Nappa top/bottom + Red centre stripe, Mid grey stitching – EXCHANGE (3.11.2015)
It looks great.
It feels great.
Stitching is great.
Went for a drive and it is such an improvement.
Thank you.
Murray : Audi S3 2002 – Smooth black leather, Black stitching – OEM Style ( 10.10.2015)
My 2002 S3 had a very worn steering wheel; smooth to the point where it would slip through my hands. A new one from Audi would have been over £400 so I did some digging and found Royal Steering Wheels. I could never have imagined the quality could be so good! I chose to stick with the original black leather and it feels like a new car. The price, the service, the communication are all excellent – I can't recommend Jack and the team enough.
Thank you again,
Murray
William: BMW 5 Series F11 SE 2015 – Thicker, Thumb grips added, Smooth Nappa leather, Black stitching ( 10.09.2015)
Just to say thanks for a nice quality product and professional approach throughout. It makes a big difference to how the car feels. Very happy to recommend you.
Will
Richard: SL350 2003 no paddles – re-profiled + flat bottom, black perforated on sides, red nappa top/bottom, red stitch on red leather and black on black( 15.08.2015)
Just a quick e mail to say how delighted I am with the steering wheel, it looks great and makes such a difference when you are driving. Thank you very much for doing such a good job.
Thank you.
Richard Covenrty
Andy: Honda S2000 – slightly thicker (1mm), perforated sides, nappa top/bottom, Darker blue 816 stitching ( 10.08.2015)
I'm very pleased and the whole experience was a joy to do business with you and great communicating so thank you once again and if you want to use the picture on your website I will be more than happy to recommend you.
I intend to let everybody know at the S2000 club so hopefully you will get more work.
All the best Andy
Simon: Porsche 911 1987 ( 4-spoke) – black perforated leather on sides, nappa top/bottom, Black stitching ( 18.07.2015)
Thanks very much for the amazing job you've done on my steering wheel. It looks and feels incredible!
Gavin B: VW Transporter T5 – Perforated leather on sides, nappa top/bottom, black stitching ( 14.07.2015)
Just received the wheel, I'm over the moon with it! I had one trimmed by a local company last year and it looked a mess! You are a true craftsmen! Very good attention to detail. Thanks very much I will recommend you.
Andrew B : Range rover P38 Anniversary (28.05.2015)
Very many thanks indeed for the job you've done on my 2001 Range Rover P38 30th Anniversary.
Mine is one of just 60 left on the roads, and has had around £40,000 spent on it; it is now like a museum piece, and I have been very fussy about retaining all of its originality.
The trimmers I used could not do the steering wheel- being a specialised job- so I searched and read for someone who does do them, and found you.
The job is absolutely stunning- somehow you've managed to come up with a steering wheel that 100% matches the original, yet its better! How you've managed to do that I don't know.
Lastly, for other peoples benefit, the job entailed a complicated mix of green and beige leather (see the pics).
Thank you so much! I cannot recommend you highly enough, and have already passed your details to the trimmers so hopefully they can place some business your way.
Best regards,
Andrew Briggs
Dean: Mercedes-Benz C63 AMG ( Black alcantara + black centre marker at 12 o'clock, Ivory stitching)
thanks for today- loving the steering wheel made a big difference in both appeal and driving.

Craig J : Integra type R – black alcantara on the sides, black nappa leather top/bottom + red leather centre stripe, red stitching (30.01.2015)
I just wanted to send you quick note to say thank you for the work on my steering wheel. The wheel looks and feels stunning.
I have had my car from new in 1998, and it is my pride and joy – and the new wheel has made it even better. The whole process of good communication and professionalism from yourselves has been first rate.
Thanks again, and all the best.
Richard : BMW 525 F10 SE (6.12.2014)
Excellent service, help and advice. royal Steering wheels fitted the new steering wheel for me, explaining each step as he went along so that I could replace next time myself. New steering wheel is great and significantly better than the standard wheel that comes on the car. Many thanks Richard.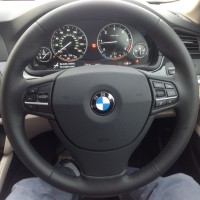 Alastair : Porsche 997 (16.11.2014)
'Excellent service from Jack throughout. Options and advice exceptional. Wheel arrived exactly as I had hoped, looks and feels easily as good as manufacturers spec and transforms the drive for me. I'm really pleased with the work and how easy the exchange was. I would (and will), recommend Royal SW's to anybody who wants excellent workmanship at a really good price. ' Al – S. Wales. Porsche 911
Nick : Porsche 996 (9.10.2014)
Jack many thanks for a great job on the steering wheel and gear lever for my Porsche GT3 996 mk2. I was never a fan of the leather OEM materials but now I have the RS look and feel that I always wanted. The quality of the work is superb and the red stitching goes very well with the colour of the car, the read centre console and red harnesses. The feel of the steering wheel is so much better and it has a real quality feel to it. It feels a bit thicker too and certainly looks a lot sportier. I really like the finishing touch of the red leather stripe at 12 oclock too. Great work as always (you done the steering wheel on my old CSL which was a first class job too!) Nick
Vincent: BMW E46 M3 SMG (29.09.2014)
From my initial phone call from Jack in response to my email enquiry, to the point of having the work done; Jack and Royal Steering Wheel proved phenomenal. The sheer quality and standard of work by Jack is a service level that dealership workshops should take note, and the quality of the steering wheel is superb. Highly Recommended and the ultimate in value for money. YOU WILL NOT BE LET DOWN.
Best regards, Vincent.
Cairns: BMW X5 F15 SE (25.09.2014)
I have been out for a long drive in the car and can now say what a difference it has made. It feel like a different X5 as the feel of the wheel when driving is just wonderful and it looks quite something with the thumb rests and the blue & red stiching.
I purchased a new Porche Cayanne just over two years ago and thought it had an excellent steering wheel but even it didn't have a look in with this one. When I went to change the Porche for the BMW X5 the only model that I could get my hands on was the SE model and anything different I would have had to wait until Jan/Feb. The steering wheel for a car like the X5 was terrible as you would have noticed, it was hard and thin.
Whenever I am in company and talking about different cars one thing I must say is, "how do you like the steering wheel". I would recommend you to anyone Jack as the job you have done could not be bettered.
Kind Regards
Cairns S.
Elliott: Porsche Boxster 987
I found the whole process of ordering from initial contact through to delivery and return of the deposit very easy. You kept me informed of every step, letting me know what to do. The steering wheel arrived exactly when you said it would, and it is perfect. It has transformed the feel of the car when driving, giving me lots of grip when steering, and also really lifts the interiour of the car. I cannot recoommend Jack enough. For the money, it has been the most effective and enjoyable upgrade I have done to my Boxster so far! Many thanks Elliott
Richard: Porsche Cayman S 987.2 (2009) I contacted Jack after seeing pictures of the work he had done to a similar car. My brief was to make the new wheel thicker in radius, with more pronounced thumb grips – but otherwise keep it as stock looking as possible. I cannot tell you how happy I am with the results. The fit is perfect and the feel and colour of the leather is spot on. I always thought the original was a bit thin and shapeless in contrast to the new wheel which really finishes the car off. It should have come from the factory like this! Jack fitted the new wheel in around 25mins and even showed me all the steps needed to do the work myself. I would highly recommend his work. Stuart: E60 SE 530i Hello Jack, was good to meet you too. Really pleased with the wheel and the care and attention to detail you showed whilst fitting.Even more of a pleasure to drive the car through the twisty bits.Happy to recommend your services to everyone.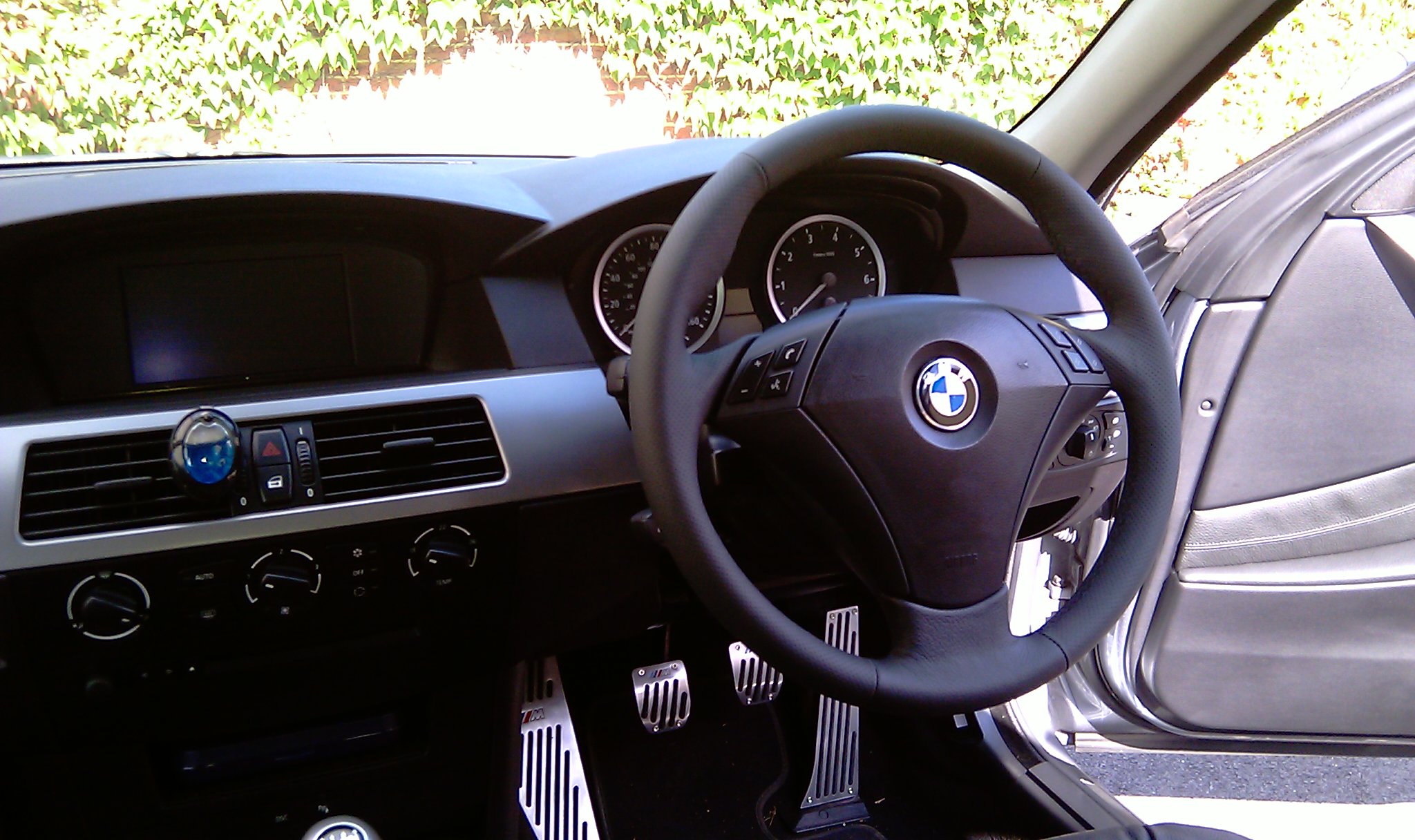 PeterE46 M-sport
Absolutely amazing…. My m sport steering was looking awful and the leather had cracked. I found Jacks details on a forum and contacted Jack for some prices. He was ever so helpful and fitted the wheel for me at a time convenient to both of us. The wheel now looks absolutely stunning and has transformed the car for me. He is highly recommended and I will definitely use royal steering wheels services on any car I buy.